Four leading artists of contemporary painting exhibition at 976 Art Gallery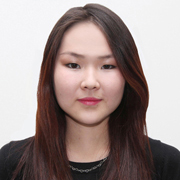 Journalist
A.Odontuya
|
GoGo.mn
---
On 6 July, 976 Art Gallery is opening group exhibition of four leading artists of contemporary Mongol zurag painting - Baatarzorig Batjargal, Nomin Bold, Uuriintuya Dagvasambuu and Gerelkhuu Ganbold each of whom, has developed his/her own unique language of artistic expression, with recognizable motifs, strong elements of social criticism, using traditional techniques of Mongol zurag, which shares a heritage with Persian miniature and Tibetan Buddhist thangka painting and characterized by ultra-fine brushwork, bright colours and themes from the everyday.
Artist Baatarzorig's paintings distinguish in their use of recognizable historical figures and combination of traditional and consumer imagery. He is particularly concerned with the loss of Mongolian heritage through a succession of outside influences, including the ascetic culture of Soviet-style communism and the consumerism of American-style capitalism. In his addressing of serious social concerns, Baatarzorig also brings epic composition and satirical humour. Symbol-heavy colors and figures in Nomin's works comment on contemporary issues; wealth, politics, nature, and human relationships by placing people from secular society in the world of gods. Nomin's goal is to displace current conventions and encourage viewers to evaluate cultural norms from the point of view of Mongolia's ancient history. Particularly notable is her use of gold leaf and collaged pages from Mongolian scriptures. Uuriintuya Dagvasambuu creates dream-like works characterised by fine brushwork, innovative composition and an elegant use of colour, reflecting the experiences of Mongolian women as well as psychologically charged imagery of contemporary life. Her paintings incorporate both poetic and everyday imagery, creating subtle contrasts between the manufactured and the natural or organic, and between intense, massed detail and flat planes of colour. Gerelkhuu describes life in present-day Mongolia as an eternal battle, a daily struggle for money and food while the powerful fight among themselves for influence. His work addresses this situation through particular reference to the famed mounted warriors of the Mongol empire, drawing as much on comics and science fiction cinema as it does on Mongolian epic painting and the local genre of equestrian painting.
From November 2015 to April 2016, artists will present Mongolia first time in the 8th Asia Pacific Triennial of Contemporary Art at QAGOMA, Queensland Australia.