"BLUE PEARL" INTERNATIONAL ICE FESTIVAL 2016
---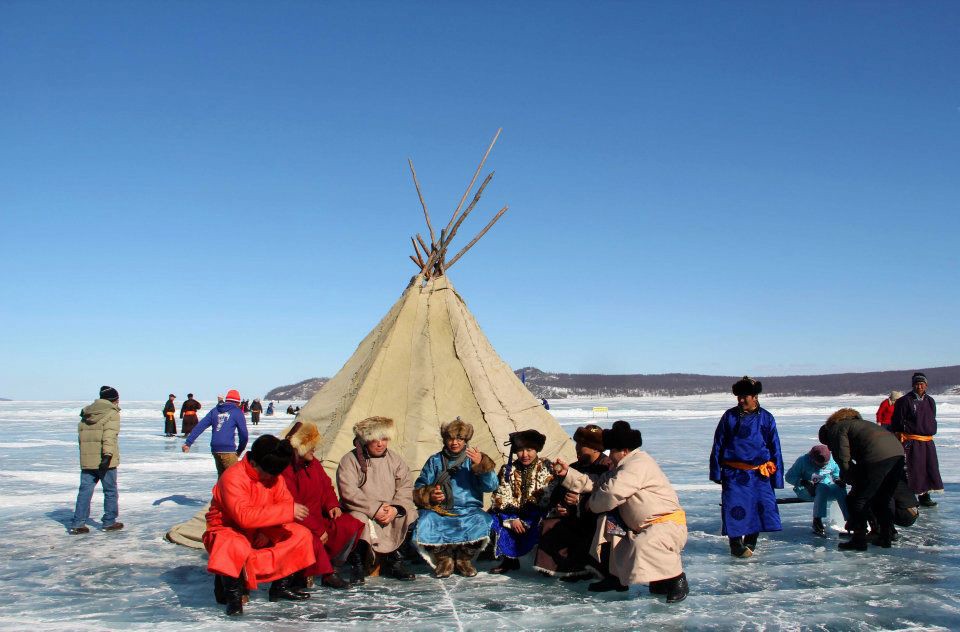 Mongolian winter is not as severe and lifeless as it's told by many. Winter in Mongolia is amazingly beautiful with glittering snow and some good chills, and one can enjoy many exciting adventures and festivals in winter in Mongolia. One of the excellent winter festivals is this annual Ice Festival of the pristine Lake Huvsgul.
The event is renamed as "Blue Pearl International Ice Festival" from this year, and is is dedicated to developing winter tourism in Mongolia, raising awareness on sustainable tourism and supporting the livelihoods of the locals of Huvsgul. Governor's office of Huvsgul province and Huvsgul tourism association are organising this year's event.
Besides the traditional horse sled races, Reindeer races, skating competitions, and shamanic rituals this year there will be an Ice Sculpture Competition – artists will create a winter fairyland on the 2-3m thick, crystal clear ice of the Lake Huvsgul, and various performances by the locals and artists of the local theatre. Moreover, an ice fishing competition will be held at Last Frontier camp at the Lake. You may also wish to enjoy a few shots in the Ice Bar with fellow festival goers.
Hot food and beverages, souvenirs, winter & sports clothing trades will be available for spectators & participants during the festival. And everyone can take part in the horse sledding, Reindeer riding and ice skating etc at small charges that will directly go to the local communities.
The dates of this year's Ice festival: 3-4 March.
Location: Dood Modot Khamar near Khatgal Village, Lake Huvsgul.
Brief program of the Blue Pearl International Ice Festival.
Day 1. 03 March 2016.
10:00 Opening Ceremony (parade of horse sleds, Reindeer riders, dog sleds, ice skaters, locals, and local artists; musical performance by local artists).
11:30 Visiting the Winter Fairyland ice sculpture show.
12:30 Traditional Mongolian "Ice shooting" competition
13:30 Lunch break
14:30 Show of Traditional Mongolian Winter Costumes (various ethnic groups attending)
15:30 Horse sled competition
16:30 "Mongolia Bike Challenge" show of bikers on ice.
17:00 Awarding ceremony of "Winter Fairyland" ice sculpture competition
18:30 Dinner break
20:30 Shaman's Fire Ceremony
Day 2. 04 March 2016.
10:00 Fun Competition among foreign tourists
11:00 Traditional Mongolia Ice shooting competition, finals.
12:00 Ice skating race.
13:00 Lunch break
14:00 Rope games (tug of war)
15:00 Ice sumo competition
16:00 Closing ceremony


How to get there:
You can join existing tour groups from Ulaanbaatar or take a private tour with your family and friends (enquire from travel agents near you).
If you drive in Mongolia (you have a driving permit) you can drive yourself (make sure your vehicle is good for snow, and you travel with a Mongolian friend who can assist you with directions). The Lake Huvsgul is some 12hr drive from Ulaanbaatar with some good stops on the way for food and accommodation (all paved road).
Take a public transport from Ulaanbaatar Dragon centre to Murun (centre of Huvsgul province) and hire a local transport from Murun to the ice festival.
Where to stay:
There are several tourist Ger camps (usually with basic washing facilities) near Khatgal village, and a few decent hotels in Murun. Please contact the main organisers for accommodation and other related info.
Contact person: Mrs. Naranchimeg, and Contact numbers: 976-99092273, 99080416, 91004008, 98114408.
Photo Source: Courtesy of Active Adventure Tours Mongolia

Prepared only for GoGo Travel by Zola

(Co-founder & Partner of Premium
Travel Mongolia LLC. www.premiumtravel.mn)
Copyright © 2016. All rights reserved.