Sebastian Bersick: Mongolia should demonstrate its trustworthiness to investors
---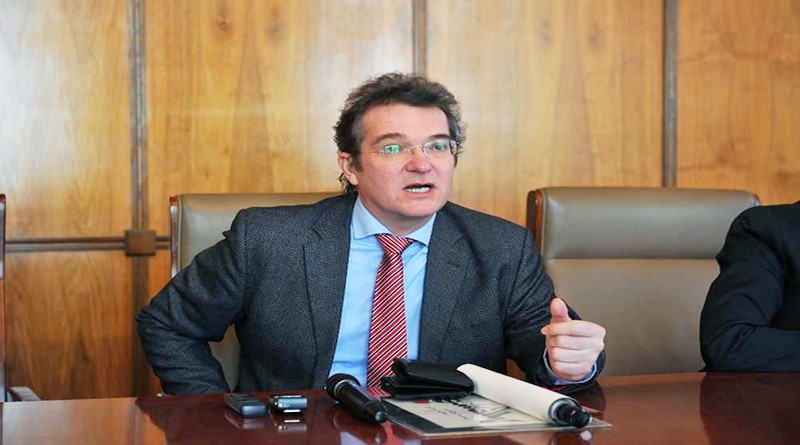 We deliver you the interview with Dr. Prof. Sebastian Bersick, who led the MFA and Konrad-Adenauer Stiftund co-organized workshop on ASEM preparation.
Good morning. Could you share with us your impression of Mongolia? Is this your first time?
This is my second time in Mongolia. As a European, I think Mongolia is a country with unique history, culture and heritage. Compared to seven years ago, Ulaanbaatar city has changed a lot; architecture and the view has changed back-to-back with economic growth--it has found its modern face. Of course, there is the issue of air pollution. But anyway, I'm happy to have come to Mongolia.
What has been the purpose of your visit this time?
I was invited by the Konrad-Adenauer-Stiftung to co-operate with Ministry of Foreign Affairs to conduct training for ASEM Office Mongolia staff and country liaisons, on how to organize the Summit, and what to focus on research. I also exchanged views with trainees about the Summit documents and declaration. The training was a success.
As a researcher of this kind, what would you say is the benefit of organizing ASEM for Mongolia?
ASEM is a biannually organized informal dialogue platform for 21 Asian and 30 European states. Each member is entitled to organize this only once in 100 years. The host country has an advantage of playing prominent role in shaping the future relations between Asia and Europe. Mongolia, its politics and social situation will be under a media spotlight and attention of the world. So, there's an opportunity to express your position and promote your strengths to investors.
This Summit is also special in that it's the 20th anniversary of ASEM.
What kind of policy should our country have in order to attract investments?Trustworthiness and pro-investment legal environment are the most important steps towards attracting foreign capital. Mongolia has to elucidate and prove to the world that it meets these criteria now. The economic cooperation of Europe and Asia has been decelerating. As Mongolia is an important player in the international geopolitics, it has the chance to make direct discussion with international leaders to improve economic relations, and build the foundation of new positive decisions.
Does Mongolia have more privileges in expressing itself?
Yes, ASEM Summit is less professional, and more informal meetings. But content-wise, it sees very important discussions. The host country has many privileges and advantages. Aside from the Summit, there are nine side events, such as Asia-Europe Business Forum, ASEM Finance Ministers' Meeting etc. Your country can establish its political and social positions and interests at these events as well. Furthermore, the host country can make considerable contribution to the Summit's final documents.
What would you advise us to focus on in organizing the Summit and side events?
First of all, the host country should show its uniqueness, advantages and hospitality, leaving positive impression. As I mentioned before, this country should focus on its geopolitical leverage and emphasize on being the bridge between Asia and Europe's economic cooperation. Then, it can initiate political and economic integration activities like free trade zones. Because high level international leaders are arriving at the Summit, it's important to set up an environment to take their attention away from global issues and focus on the two continents' issues.
How ready do you think Mongolia is in organizing the ASEM Summit?
There are many indicators to check the readiness. Obviously, it's not easy to organize this world-class event for the first time. I understand that your country is facing infrastructure problems. When I came here I saw that Mongolians are trying very hard in each and every field for this. So I've been very impressed.
Aside from the 51 member states and 2 international organizations, several non-member state delegates are supposed to arrive at the upcoming Summit. What should Mongolia's agenda be in terms of recovering Europe and Asia's economies?
In the recent years, the economic cooperation of Europe and Asia has slowed down due to several issues, as I mentioned before. Mongolia should take this opportunity of having hosted many countries' leaders and initiate a direct dialogue to resolve this issue. In other words, it's possible to talk with other ASEM member states directly.
Thank you, and I wish you good luck in your future endeavors.
Thank you very much. I am confident that Mongolia can successfully organize the ASEM Summit if it keeps working at this pace.
Source: www.asem11.mn