Mongolia is so fascinating
---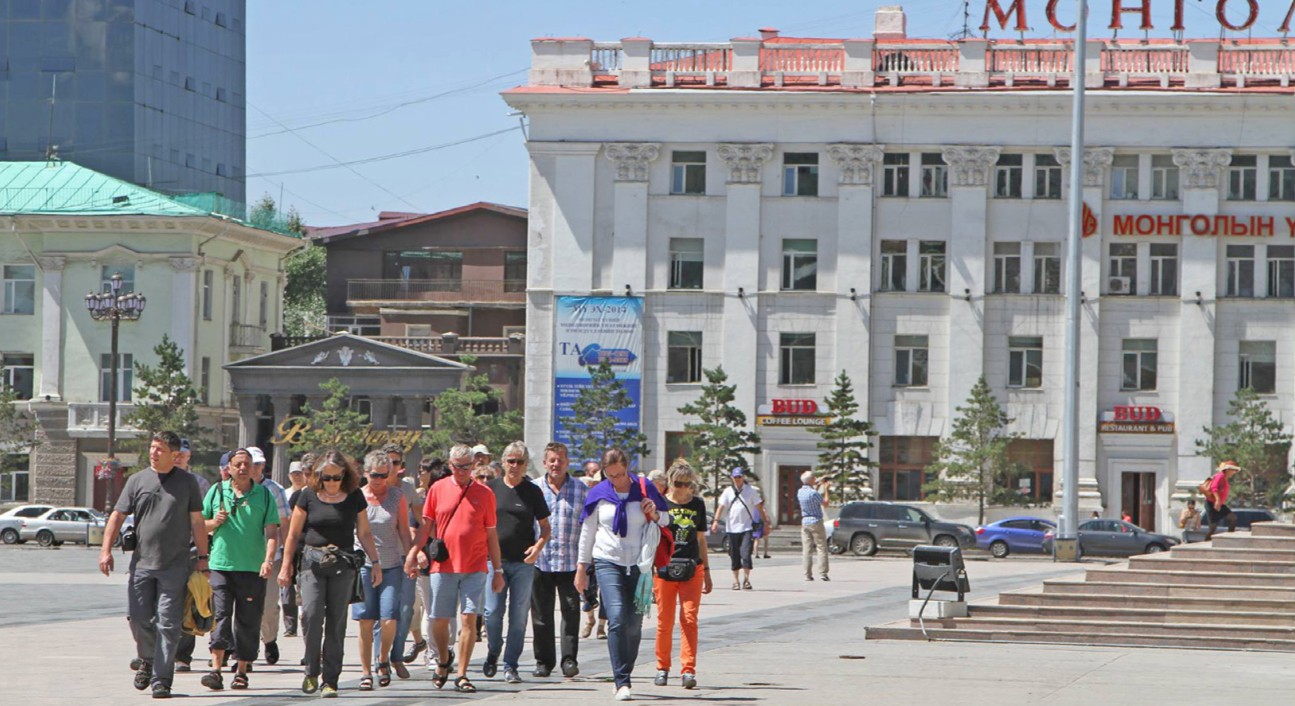 However it's been 4 years since Mongolia makes tourism as a priority of country development, it is not clear what programs and development are under progress. Relevant organizations report that number of tourist increase year by year. Statistics shows 530 thousand tourists came to Mongolia last year and foreign tourists expressed their feelings about Mongolia as follow.
Ernst, Hanne (Germany):
-We arrived in Mongolia three days ago. The reason why we chose travel to Mongolia is its nature and culture. We used to think Mongolia is part of China.
Jason (Australia):
-I arrived in Mongolia 4 days ago. I always wanted to travel to Mongolia because of its rich history and very different culture comparing with Australia. I used to imagine the country as steppes, few people, horses and Chinggis Khan. Now, people here are very friendly and positive, but seems they consider their garbage issue bigger. Every country has garbage issue. It was nice to buy many things by few thousand tugriks which seems like shopping killer. I am planning to travel to Kharkhorin, Gobi and herder family.
Alessandra, Bianca, Mattia, Giulio (Italy):
-We arrived here 2 days ago. We chose Mongolia, because people, territory, culture and history seems so interesting. We have planned to travel to Gobi first and then Khuvsgul lake. We used to imagine Mongolia as steppe and mountainous area. It might change after our travel.
Biel and Unai (Spain and Finland):
-We arrived in Mongolia 5 days ago. We have planned to travel from Russia to Beijing. Mongolians are very polite and Buddhism here seems interesting. Russia has many catholic churches, and Mongolia has many Buddhist churches. We saw many livestock from the train from Russia to Mongolia. Traffic culture seems rude like drivers don't respect pedestrians. We prefer city than Gobi, and we are going to see opera soon.
Noe and Lena (Switzerland):
-We are here for a week. Steppe, people and livestock are nice. Also Mongolian yoghurt is amazing. We went to Kharkhorin. We used to imagine Mongolia as steppe and full of horses, but it was little bit different. Children who live in countryside go to school in city, and parents stay herding livestock. It seems wrong. We had a professional guide here, so there was no problem. Mongolians seem very helpful people, and we will come again if any chance.
Lilou and Mats (Belgium):
-We arrived 3 days ago. In Belgium, we met a Mongolian guy who herds horses, and he invited us to come Mongolia. We will travel for 21 days in Mongolia. We had read about Mongolian history before we arrive. Also, we are first time in Asia. We went to National Historical Museum in Ulaanbaatar, and we want to travel northern part of Mongolia.
Kim Yura, Park Sooyoung, Kim Jongsuk (South Korea):
-We arrived in Mongolia 3 days ago. We made research about some restaurants and travelling spots before we arrive. We want to go to Khuvsgul lake and Gobi. Mongolian nature is so beautiful.
Davi Cheng, Rita Fan (Hong-Kong):
-We have stayed here for 8 days. We planned this travel to Mongolia for a long time. Chinggis Khan and Blue Sky are familiar to us. We like Mongolia, especially mountains. Travelling here is so comfortable and less stressful comparing with Hong-Kong. It would be nice if we come again.
Simon and Eloise (France):
-We've been here for 20 days and will go back to Paris tomorrow. We liked the nature and people here. We travelled through north and south part of Mongolia. We went to Khuvsgul lake which is so beautiful. We also know HU the Mongolian rock band except for Chinggis Khan. We heard that air-pollution level is high during winter in Ulaanbaatar. In summer, plastic garbage issue is concerned. We want to come back in winter and see frozen Khuvsgul lake.
Aria Cheng (Singapore):
-I came here on June 14 and going back tomorrow. Mongolia is so fascinating and I liked everything about Mongolia, especially steppes. I imagined Mongolia as green steppe before. Singapore is big city, so it is hard to see steppe. I see that traffic and infrastructure are big issue here. Office buildings are centralized in one area and apartments are in other area in Singapore. Also, not all Mongolians speak English, so there were some communication issues. But it was not difficult with a translator. I went to western part of Mongolia and saw many things about Mongolian nomadic lifestyle. Local people were very nice to me and I want to come again.