Bardie Barclay Sutton: Gratitude changes everything
---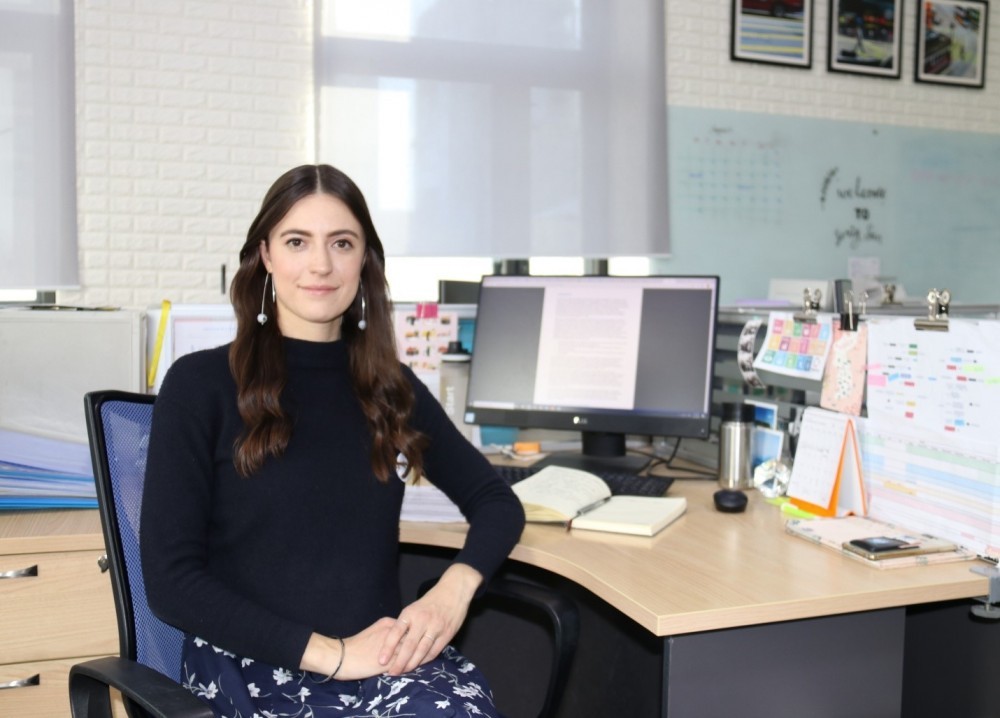 We interviewed Bardie Barclay Sutton, the program officer of Zorig Foundation. She graduated from the University of Melbourne with a degree in psychology and anthropology. Also she has worked in World Vision Australia, Oaktree Foundation and Australian Volunteers International. We talked with her about the projects and programs she initiated and implemented in Zorig Foundation.
First of all, please introduce yourself and your family to our readers?
So legally I'm Alicia Rose, Bardie is actually my nickname from when I was little, but I went to primary school I told the teacher it was my name and my parents let me keep it. I was born in Sydney, Australia. I am twenty seven years old. My parents separated at a young age so I have quite a blended family, my dad is a psychologist and my half brother is 15 and a very typical teenager interested in sports and video games. My mum is a teacher, actress and writer.
Why did you choose to work for zorig foundation in mongolia?
I knew when I graduated from University that I wanted to be a part of the Australian Volunteers Program again. When I saw the assignment, it really felt like fate. It was the perfect blend of capitalizing on my existing skill set and providing good opportunities for professional growth. I was finishing up at my job a youth led organization, where at 27 you get retired, but I really wanted to continue working in youth development. I chose to apply for the assignment.
Reading about the organization, I was excited by how Zorig foundation's programs equip young people with the skills they need to be the leaders of today and deepen their civic engagement through community development outreach projects. I was also drawn to Zorig foundation's grassroots approach to advance democracy through building well informed, capable and responsible citizens. And after 9 months here I can confirm they are doing all of that and more. The fact it was in Mongolia was just a bonus as I never knew much about this country before.
You used to work for world vision australia and studied psychology and anthropology degree at the university of melbourne. tell us about your work and life experience before mongolia?
I started my development career at World Vision as a fundraiser for their child sponsorship program. Working in this role helped me appreciate the complexity of community development, I learnt the best way to change a child's life is to change the world in which they live. To break the cycle of poverty you have to address the root cause and to find that you have to place the community themselves at the centre of solutions and change. After this I also got involved in Vision Generation, World Vision's youth advocacy movement. Our campaigning was focused at the grassroots level around conscious consumption and the fair trade movement. We helped raise awareness that the very practice of using children for labour is driven by the demand for cheap goods that require cheap labor.
Every purchase you make tells a story about the kind of world you want to live in. If you buy a $5 T-shirt someone is suffering on the other end so that you can save money. By choosing to buy quality, ethical or fair trade certified everyday products like clothes, chocolate, tea and coffee you're voting with your wallet for a fairer world. Most recently though I was at the Oaktree Foundation, which is Australia's largest youth led international development agency. I volunteered first in political advocacy, lobbying for the importance of Australia's aid program and then worked in fundraising and community engagement helping to support education and youth leadership programs in Cambodia and Timor Leste.
What new programs and projects have you implemented with youth in mongolia?
In summer, I worked on the Young Scholars Program which supports 30 of Mongolia's brightest youth as they go through the international college application process. Now in its ninth year, the program is highly competitive, and attracts the most passionate, ambitious individuals. However, the flip side of success is the pressure of being a high achiever, so I introduced positive psychology training during the camp to help these students support their own mental wellbeing during one of the most stressful periods in their life. We taught yoga, meditation, gratitude, growth mindset and directed them to available support networks in Mongolia for when things get too much. Globally, young people are experiencing increasing rates of poor mental health so it's really important to let them know there's help out there.
I also recently supported the Zorig Foundation to work with the U.S. Embassy to help deliver the first Youth Tech Entrepreneurship Accelerator program. Over 5 days we trained 20 aspiring tech entrepreneurs in topics like business planning, design thinking, marketing, branding and ended in a pitch competition that connected teams with potential investors. This program was so important as it addressed two critical development issues of youth unemployment and economic growth. As a landlocked country, the IT sector holds enormous promise for helping to diversify and grow Mongolia's economy. Especially considering how much young people use smart phones and social media.
What is the most challenging aspect of working with young mongolians? can you share with us your impressions?
That's a great question. I've been incredibly impressed by the talented young people I get to work with. A challenge though is definitely the unequal access to quality education within Mongolia. It's hard to play catch ups with the opportunity gap between public and private schools. To succeed in today's fast paced society 21st century learning skills like critical thinking, creativity, collaboration, communication and language are needed. However, many schools are still teaching via wrote learning, which is just copy past memorizing of knowledge, so students find themselves under prepared when it comes time to enter the workforce.
Please provide us with a brief introduction of the australian volunteers program?
Australian volunteers have been supporting Mongolian organizations since 1998, and over 300 volunteers have supported organizations in this time. Every year the Australian Volunteers Program supports around 25 Australians to undertake assignments in Mongolia in sectors such as civil society, government, education and public health. The program pairs skilled volunteers to local organizations in developing countries to help build capacity so the organizations can more effectively deliver on their own mission and objectives.
So when I leave the organization can also do everything I do, I don't take the skills away with me. It's a very people centered approach to development. In my opinion it's one of the best models out there for ethical sustainable volunteering, as it works to minimize dependency and maximize self sufficiency. Development is not something being done to them by us but we are partners working side by side. And due to the immersion of volunteers within their community and organizations it's a two way cultural exchange, I've learnt as much from my colleagues as they have from me.
What kind of volunteer work did you do in other countries? can you share with us your most memorable volunteer experience?
During university I completed a summer subject volunteering in Yogyakarta, Indonesia for about 2 months. Our goal was to compile an action plan report on advocacy gaps in disability rights awareness and provide recommendations to help with the realization of the UNCRPD within Indonesia's local government policy framework. We also launched an inclusive community socializing program in response to requests from young members of the community with a disability who were feeling quite isolated and marginalized due to the stigma surrounding people who were differently abled.
However, my first experience volunteering overseas was during my gap year after graduating high school. I taught English, science, maths and art for 3 months in a primary school in Ghana. My class was grade 3 and my students ranged in age from 9-18 years old due to many of them sometimes missing miscellaneous years of school to help their parents out on their family farms. One of the kids we realized didn't actually know the alphabet and had just been pretending to read by learning the lines from the book from listening to their other classmates reading aloud.
Their regular teacher would sometimes not show up for class, and later we found out from her that she actually always dreamed of being a nurse. But when it came time to enroll in college her father was sick, and a teaching degree was the only course that was paid for due to a shortage of teachers in Ghana. So she ended up in a job she didn't really enjoy because of economic poverty. These are the kind of experiences that stick with you forever, teaching someone the alphabet might seem so simple but spending that one on one time changed the rest of his educational journey for the better.
I have heard you like to travel and take photos. how many aimags did you travel in mongolia?
I absolutely do. Mongolia is lucky country number 13. So far I have visited 8 aimags throughout the north, south and central Mongolia. My road trip up to visit the Tsaatan reindeer herders was certainly an experience I won't forget in a hurry. To visit the remote east Taiga community in far north Mongolia it was an 8 day return trip. We spent 45 hours of driving in the countryside, 34 hours of horse riding over 4 days and were finally rewarded by more than 400 reindeer. Definitely worth the effort and a magical experience. The anthropologist in me felt very fortunate that the community welcomed us in to learn about their culture and daily life as reindeer herders and shamans.
You have worked for more than 5 years in civil society organizations. in your opinion, how important is the role of youth to reduce inequality and create a more inclusive society?
That's correct, both through my work in youth development and as a young person myself I feel incredibly confident that our world is in safe hands as millennials begin to take positions of leadership around the world. My generation has been socialized in a particularly transformative time. Young people today are experiencing a globalised world in which inequality is so glaringly obvious at home and abroad, and in an age of information it's hard not to be moved to take action. We're more connected than ever before, so most young people I know see themselves as global citizens. And many of the challenges we're facing as a world do not discriminate on the basis of borders. Climate change, terrorism and the refugee crisis to name a few.
But I think surrounded by constant technological and social innovations, most notably the internet, we've grown up in the age of possibility, with a very you can do anything mentality. As an Australian we have a narrative of the fair go so I think this discourse of equity combined with our free-speech society has been incredibly empowering and fuelled young people like me to fight for what we believe is right. But more than philosophically youth participation is critical practically, more than 50 percent of the global population are under the age of 30, and more than 90 percent of all young people live in the Global South. Unfortunately though as a demographic we are often misrepresented and undervalued by traditional power structures and shut out of decision making process. That's why I love the work that Zorig Foundation does, putting young people back in the driving seat, empowering them to be agents of change.
What do you envision for your future work? what is your dream?
I love working for NGO's and being connected to impact first hand, so next I'm off to Fiji again as an Australian volunteer. In the future I'd like to continue to work within the field of gender and social inclusion in international development. I'm beginning my masters online next year, which knowing myself will likely lead to a PHD.
Eventually I can see myself as an academic teaching Anthropology at university, I love learning and sharing what I'm passionate about with others. For our world I dream of a more just society where opportunities are not determined by the geographical lottery, or your gender or sexuality or the colour of your skin. Globally I think we're on the cusp of deciding whether we go for unity or division, but I have hope for a more conscious and connected world.
Thank you for the interview. good luck for your job.