Grace C.R.Lo: Taiwan is one of the world's best performing education systems
---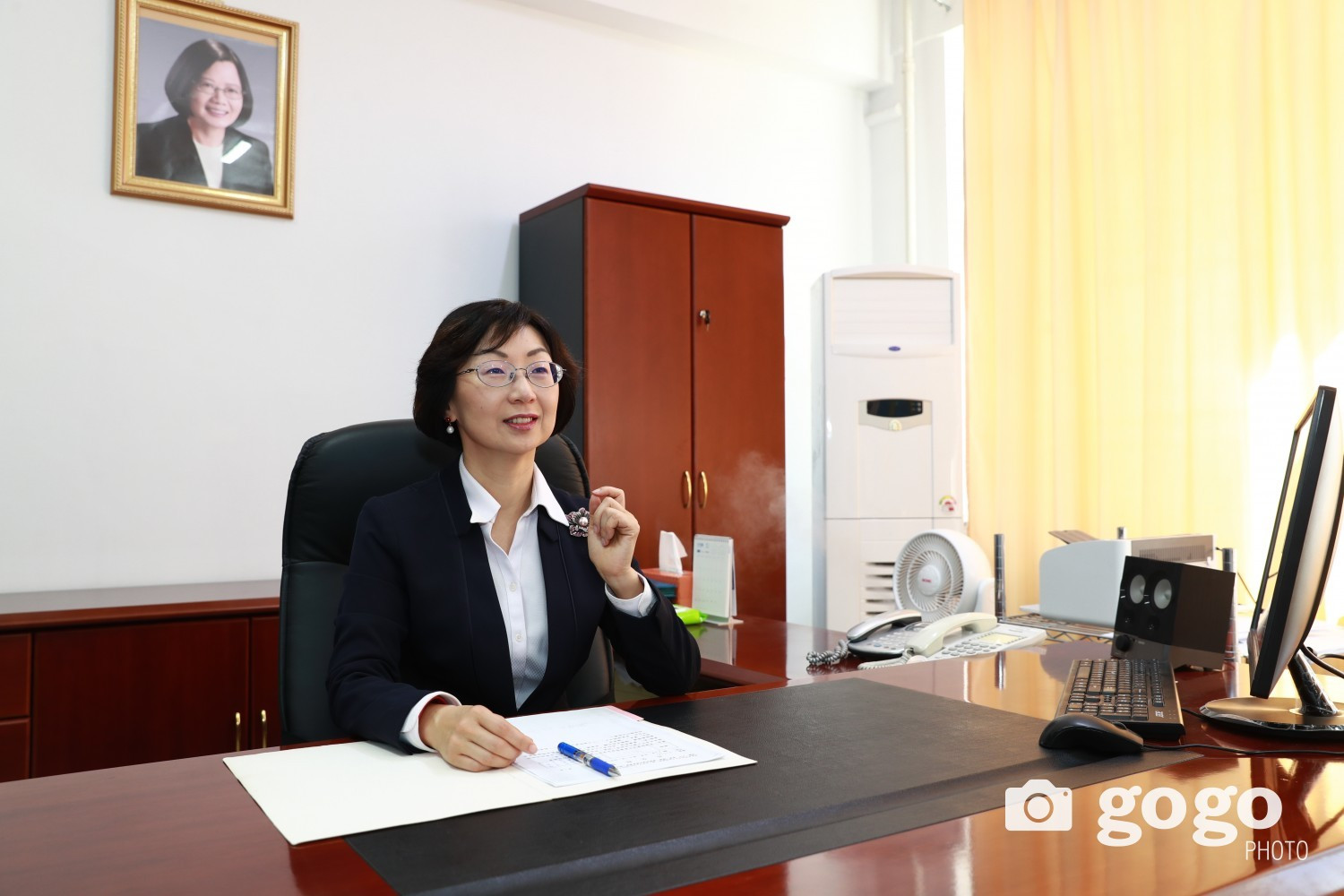 We had interview with Mrs. Grace C.R. Lo, Representative of Taipei Trade and Economic Representative Office in Ulaanbaatar, about Taiwan scholarship program and furthermore regarding coronavirus which has become a big issue around the world.
- Could you talk about the state of gender equality in Taiwan? Your current President is President Tsai Ing-Wen, Taiwan's first female president, and she just got re-elected for another 4 years; you yourself are also the first female head of Taiwan representative office in Mongolia.
- President Tsai Ing-wen was first elected in 2016, and re-elected early this year. She is the first-ever female head of state of the Republic of China (Taiwan). Since her election, President Tsai has placed great emphasis on improving gender equality. Currently, 42% of our lawmakers are female, the highest percentage among the parliaments of Asian countries. To fulfill gender equality, each ministry in our government establishes a gender equality committee that includes external experts on the issue and monitors if a government entity meets its commitments to gender equality on a quarterly basis. We believe that the greatest well-being for the people will be achieved only if both genders can participate in public affairs on an equal footing.
- Since when did Mongolians start receiving scholarships from the Taiwanese government?
- Taipei Trade and Economic Representative Office was established in 2002. In that same year, Ming Chuan University (MCU) provided scholarships that allowed a dozen Mongolian students to study in Taiwan. They were also the first ever group of Mongolian students to study in Taiwan. The Taiwanese government has provided scholarships to Mongolian students since 2004.
In 2017, there were about 800 Mongolians studying in Taiwan, and the number has doubled over the past two years to the current 1,600 Mongolian students.
- How many countries' students study in Taiwan with a scholarship program?
- In 2020, there are about 450 students from 65 countries included in the program of Taiwan Scholarship granted by the Ministry of Education of the Republic of China (Taiwan).
- In the past, how many Mongolian students have studied in Taiwan with a scholarship program?
- Mongolian students started studying in Taiwan in 2002. Since then, there have been more and more Mongolian students studying in Taiwan. Aside from a dozen scholarships granted annually by our government, most universities in Taiwan (both privately and nationally owned institutions) have granted a great number of scholarships to foreign students due to the government's policy incentives for their internationalization. Nearly 90% to 95% of foreign students studying in Taiwan receive scholarships granted by our government or universities, which range from full scholarships, discount of tuition and miscellaneous fees or boarding fees, to various forms of stipends.
In 2017, there were about 800 Mongolians studying in Taiwan, and the number has doubled over the past two years to the current 1,600 Mongolian students. The rocketing number of Mongolian students reflects that Taiwan's higher education programs have become increasingly popular among Mongolians aspiring to study abroad.
It's worthy to note that in the 2019-2020 school year, there were 1,155 Mongolian students studying in Taiwan for undergraduate and graduate degrees, 450 Mongolian students learning Chinese language, and 13 Mongolian exchange students.
- What majors do most Mongolian students study in Taiwan?
- What Mongolian students choose to study when abroad depends on the market orientation for careers in Mongolia. Generally speaking, about 70%-80% of Mongolian students choose to major in business or financial management, while others choose engineering, medical and/or public health management, and international relations. However, the areas of study have diversified in recent years. There are more and more Mongolian students opting for majors in information engineering, architecture, digital media design or landscape design, and so on.
- In what fields does Taiwan prepare students more successfully?
- Taiwan is considered one of the safest places in the world and Taiwanese people are very friendly. In comparison with the other countries in the world, especially around Asia, Taiwan's university tuition and miscellaneous fees are much more reasonable, even while the quality of education delivered remains very high. There is a robust tutoring system as well as peer assistance for international students on campus. With such advantages, Mongolian students not only acquire academic knowledge and pragmatic skills, but also get to explore their ambitions and interests in a safe and supportive environment, which will help hone their competitiveness for their future career and life.
Taiwan is considered one of the safest places in the world and Taiwanese people are very friendly.
- What's the main criteria for scholarship applicants? Could you please give some advice to applicants?
- The main criteria for scholarship applicants will be their determination to explore further knowledge in a different country. The applicants must be able to use either English or Mandarin to live and study in Taiwan. For more details, please visit our website https://www.roc-taiwan.org/mn/ and our FB page https://www.facebook.com/TW.Mongolia/. My office collects a lot of useful information for applying to Taiwanese scholarships or for studying in Taiwan, in both English and Mongolian languages. And another useful website to find a suitable department or university for you in Taiwan is https://www.studyintaiwan.org/.
As for the language requirements of Taiwan Scholarship, the criteria is as follows: Test of Chinese as a Foreign Language (TOCFL) Level 3 and above or HSK Level 5 and above for those applying for the full Chinese program; regarding the full English program, TOEFL iBT 68 and above, TOEFL ITP 520 and above or IELTS 5.5 and above for undergraduate degree; TOEFL iBT 76 and above, TOEFL ITP 540 and above or IELTS 5.5 and above for master degree; TOFEL iBT 79 and above, TOEFL ITP 550 and above or IELTS 6 and above for PhD. degree. In addition, scholarship recipients wanting to do a bachelor's degree must have an average GPA of at least 3.0, those wanting to do a master's degree must have an average GPA of at least 3.5 or above during their studies so far (where 4.5 is the highest score).
- What are the advantages of Taiwanese education system as compared to others?
(1) High quality:Taiwan is one of the world's best performing education systems (Top 10). We provide an excellent quality of education.
(2) Competitive advantage given by English- and Mandarin-taught programs:We provide both a Chinese program and an English Program. International students can choose English-taught programs straight away. Meanwhile, most universities provide foreign students with free Mandarin-learning courses. A plus for international students' competitive advantage when they return home post-graduation will be their experience living in a Mandarin-speaking environment and their Mandarin language skills learnt in Taiwan.
(3) Internationalization driven by entrepreneurship:Taiwan is an important trading country with a veryinternationalized business environment. In addition, Taiwanese people have a very good sense for entrepreneurship — 95% of business entities in Taiwan are small- or medium-sized enterprises. Studying in such a country will definitely help develop the entrepreneurship and international vision of Mongolian students.
(4) Safety, convenience and transportation, livability:According to InterNations' "Expat Insider 2019 Survey," Taiwan was rated number one by global expats as the most livable country in the world because of its high quality of life (92% approval); healthcare affordability featuring both service quality and reasonable price (89% approval), and no other destination has performed better than Taiwan for either factor since the island country entered the survey. The high level of personal safety in Taiwan also makes it a really attractive choice.
(5) Accessibility of visas and job opportunities:For postgraduate and doctoral Mongolian students, their family members can apply for resident visas to accompany them in Taiwan. In addition, in order to encourage foreign students to work in Taiwan after their graduation, our government can issue work visas to graduated international students that allows them to stay one more year and to put what they learned into practice. Foreign graduates may use this one-year window of opportunity to find a job and stay in Taiwan or to accumulate working experience before they return and make contributions to home countries.
- There is an alumni association which is created by members who graduated from Taiwan together. How does the Taiwan Representative Office support their actions and cooperate with them?
- This Taiwan alumni association has worked with us on several occasions. For example, we used to co-host friendly basketball competitions and year-end gatherings of those alumni. Such occasions are great opportunities for the alumni and our office to deepen our ties, expand our networking, and share their valuable experience as foreign students in Taiwan with those who want to study there in the future.
- Is there any opportunity to expand scholarship quotas of Mongolians?
- In terms of government scholarships, the quota is limited and competitive. As to scholarships granted by Taiwan's private and national universities, the opportunities are still so many and open for those hungry for knowledge as well as opportunities of betterment and change. Due to the coronavirus, we are putting off the deadline of application until June 1. I think we will have the result around the end of June.
- It has been not so long ago since your appointment to Mongolia. What is the most immediate and main plan for your work in Mongolia?
- The focal areas of my efforts will be the promotion of bilateral exchanges and co-operations in trade, tourism, educational and historic-cultural affairs between our two countries. These are the areas that have great potential to develop mutually beneficial cooperation. Our bilateral trade volume of last year amounted to 42 million USD. Mongolia enjoys a surplus, which the country import goods worth 9 million USD from Taiwan, and export volume is about 33 million USD. Major Mongolian items selling to Taiwan include coal, refined copper, fur and leather products, while my country has mainly exported electronic products, machinery, and medical equipment and car parts to Mongolia.
I am sure that when the good time comes, I hope to see the wonderful places of Mongolia.
- What was your first impression after you came to Mongolia?
- Very blue sky and friendly people. Although Mongolian people seem to be a bit reserved in their attitudes toward strangers, they are, in general, very friendly and treat Taiwanese people with great hospitality. I heard that the Mongolian countryside is very beautiful. I haven't been able to go yet because was banned due to coronavirus after I was assigned to Mongolia in last December. But I am sure that when the good time comes, I hope to see the wonderful places of Mongolia.
- How many Taiwanese people live in Mongolia? What do they mainly do here?
- There are around 20 Taiwanese citizens living and working here permanently, including businessmen, students, my colleagues and their family members. Taiwanese citizens are working or investing in such sectors as mining and energy, trade, tourism and IT services. There are also Taiwanese ladies residing in the country with their Mongolian husbands.
It is worth noting that three Taiwanese social workers are staff of a Taiwan-based NGO, Taiwan Fund for Children and Families (TFCF). TFCF is the only Taiwanese NGO that runs a permanent branch office in Mongolia (and has since 2004), through which this NGO has deepened its operation over the past decade and helped more than 20,000 needed children from 8,000 underprivileged families. One of TFTC's relief works involves providing scholarships to poorer children, which enables them to study in Taiwanese universities.
-What actions are the Taiwanese government taking against COVID-19 pandemic? Especially since schools and universities are still open in Taiwan?
- Taiwan's efforts in fighting COVID-19 pandemic have been praised by New Zealand's PM Jacinda Ardern, Israel's PM Mr. Benjamin Netanyahu and others. Microsoft co-founder Bill Gates said in an interview that Taiwan is "exemplary" due to its quick response to the outbreak, and the legendary singer and actress Barbra Streisand praised Taiwan's response, too. I think the key to our success is "advanced deployment."
After meeting the domestic need, our government has started to donate masks to seriously affected countries.
Like the Mongolian government, our government also acted very quickly. On December 31 last year, we began to monitor incoming passengers from Wuhan. On January 20, the Central Epidemic Command Center was formed. Since then, it has held a press conference every day, sometimes twice a day. The front-line commander of this ongoing battle against COVID-19 is our Minister of Health.
Although we stopped flights with Wuhan, we still operate flights with several cities in China. We didn't cut off all flights with China. One distinctive aspect of our approach is to contain the virus without a large scale "lockdown" of cities or our economy. When this pandemic started, Taiwan's schools, universities were still on winter vacation. The government ordered schools and universities to prolong winter vacation for 2 weeks. Then, at the beginning of March, the new semester began. However, every student needed to have their temperature taken before entering the campus.
Our Central Epidemic Command Center establishes a standard for school closure: If one student (or teacher) in the classroom is confirmed to be infected, the whole classroom will close for 14 days; if there are 2 confirmed cases in a school or university, the whole school or university will close for 14 days, and during the 2 weeks' time, students and teachers will turn to online classes. There have been costs, of course, but they have remained minimal. Many universities and schools temporarily gave up their "open campus" policy, namely enforced closure of campus to their neighborhoods, due to the virus.
So far, there is one kindergarten, one high school and one university ever forced to close for 14 days because of the virus. Other schools and universities remain open, only a portion of classes have turned to online instruction. Meanwhile, cinemas, libraries, concert halls and most public places, with some precautionary measures taken, are doing business as usual.
Viruses know no border, so we are very unwilling to see a loophole of disease prevention and containment result from Taiwan's absence from sharing up-dated information with the WHO.
At an early stage of the outbreak, our government took over the production and distribution of medical-grade masks, and moved on to work with private machine-tool and medical-supply companies to establish more production lines for surgical masks, multiplying production capacity from 1.8 million pieces to 15 million pieces per day within six weeks. After meeting the domestic need, our government has started to donate masks to seriously affected countries. Early April, President Tsai announced to donate 10 million masks overseas, among them 2 million were distributed to the US, 7 million to European countries, and 1 million to our diplomatic allies. A second wave of donation is underway with 6 million more masks distributed worldwide.
The global threat posed by the novel coronavirus showcases the importance and necessity of including Taiwan in WHO-related meetings, activities and mechanisms. Viruses know no border, so we are very unwilling to see a loophole of disease prevention and containment result from Taiwan's absence from sharing up-dated information with the WHO. On the other hand, Taiwan is willing to share its experience of combating diseases with the international community by meaningful participation in the WHO, with a common goal of defeating the novel coronavirus.
- Please share your opinion as a Representative of Taiwan about Mongolian's current action against COVID-19.
- I think Mongolians have done and keep doing great job. Your government close the border very quickly and closed public areas such as schools, movie theatres, even driving and another courses.
Here in Mongolia, as a foreigner we are also very thankful for Mongolian government takes very quick and decisive measures to fight against coronavirus.
I think these are very necessary and now proves that very effective ways against coronavirus pandemic. Here in Mongolia, as a foreigner we are also very thankful for Mongolian government takes very quick and decisive measures to fight against coronavirus. There are only about 30 cases which were imported from outside and you have no local cases at all this time.
As a foreigner, I think we feel very safe here during this pandemic. I saw the masks, hand sanitizers and face shields are providing in the supermarket with great amount and anyone can buy them if necessary. There's no shortage of these products. I can see that Mongolian government made a lot of efforts to make sure that all those materials important for fighting against coronavirus is sufficient for the citizens.Of course every country has its own different situation. Mongolian is a landlocked country and it's not that easy as Taiwan to control of the border check points because you have so many in there. So far Mongolia is doing brilliant job.
- Thank you so much for the interview.