Citizens on strike outside of "Bayankhangai" resort were told not to eat unless they are inside
---
Citizens arrived through Frankfurt-Ulaanbaatar charter flight on July 27 are isolated in Bayankhangai resort in Batsumber soum, Tuv province. Those citizens contacted us and complained about the resort "This place is very dirty, the floor was not swept and washed, the soap used by the previous person, the bed was not placed properly, and the wall was peeled off".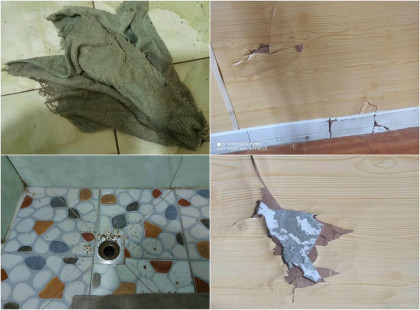 The citizens waited all day at the airport and got off the plane in Mongolia in the morning of the third day after leaving home. After landing, the bus traveled for five hours on a dirt road to the resort where the dirty rooms waited.
People who paid high fees, traveled long distances, went without food for hours, and were tired, refused to enter the uncleaned and unsanitary place and they stayed outside. They also informed this issue to the State Emergency Commission. The citizens said "We ask for hot water, but they wouldn't give us any food unless we enter. After waiting, we got really tired and hungry. We went to the room between 5pm and 6pm. We cleaned the rooms by ourselves and made it a little bit cleaner".
On March 20, 2020, the State Emergency Commission approved "Duties of staff to work in isolation sites". It states that the main staff of the isolation sites will ensure the normal operation of the facility. But the following photos show that the Bayankhangai resort does not fulfill these duties at all.
In addition, the State Emergency Commission's hotline received 3150 complaints since March 10. The Emergency Headquarters reported that they had been received and resolved the complaints, but some are still unsolved.