76.8 percent of Mongolian land suffers from desertification
---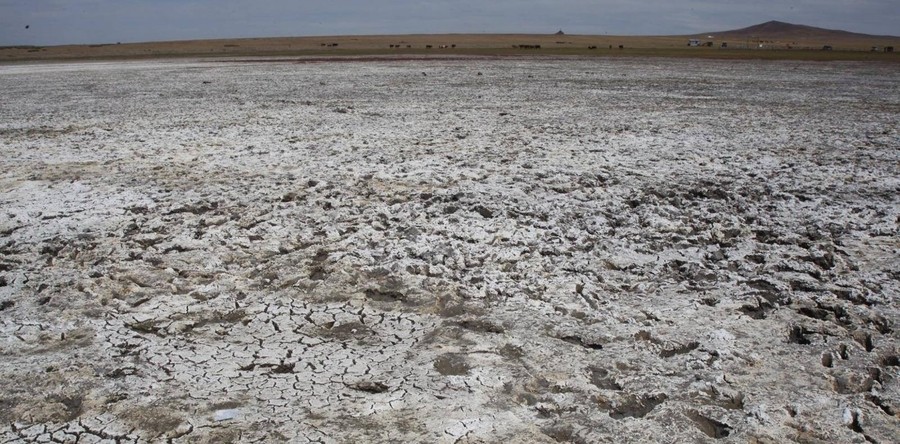 According to the Report on Environmental State For 2015-2016, 76.8 percent of the Mongolian territory has been struck by desertification as a consequence of fast-spreading dryness in the recent years. The report was presented by Minister of Environment and Tourism, Ms D.Oyunkhorol at a cabinet meeting.

The main cause of desertification was the 2.5 times increase in the population of livestock since 1990 and failure to maintain the traditional methods of pasture rotation and going on search for better grazing lands, says the report.

Another concern is the increased frequency of atmospheric hazards. In specific, average of 30 atmospheric incidents were observed each year from 1990 and 2000, whereas the number had doubled between 2001 and 2016. For instance, the number of days with dust storms went up to 47 in 2015 from 37 in 2014.

Although Mongolia's total carbon dioxide emission is lower than the global average, 6.08 metric tons of CO2 emission per capita indicates a number that is quite higher than the global average.
Climate change, pastoral degradation and improper mining activities have speeded up the drying process of surface waters – springs, rivers, ponds and lakes. According to results of 2016 centralized census of surface water, a total of 774 springs, 263 small and large rivers and 346 lakes have dried out.

Moreover, 88 percent of the soil samples from Ulaanbaatar used in the soil test conducted in 2014 were tested positive with various bacteria, mould and fungus, as well as ammonia contamination in densely populated areas.
Wastewater coming from the central sewerage and industrial waste have contributed to Tuul River pollution. The report reads that contents of nitrate azote and rock phosphate at the river's influx have tendency to increase since 1985.